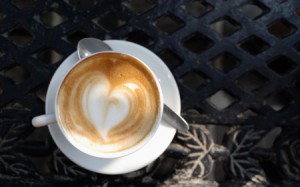 Fall means more than crisp air and crunchy leaves — it's pumpkin spice latte season, of course!
We love warming up with this seasonal favorite, but the version found at most coffee shops doesn't quite cozy up to teeth. This autumn treat is loaded with sugar — up to 50 grams per cup! Consuming high amounts of sugar feeds the bacteria that cause plaque, which can form cavities.

 So what's a pumpkin spice-loving smile to do?
Don't ignore your pumpkin spice fever for the sake of your smile! Instead, try the following homemade recipe for a healthier alternative to your autumn addiction.
Tooth-Friendly Pumpkin Spiced Latte
Serves: 1
Time: 5 – 10 minutes 
Ingredients:
8 ounces of coffee brewed with a dash of cinnamon and nutmeg.


Tooth-Friendly Perk: These spices can add flavor, reducing or replacing sweetener in your drink.

4 tablespoons of pumpkin puree


Tooth-Friendly Perk: Pumpkin is filled with vitamin A, which helps strengthen tooth enamel.

½ cup of low-fat milk
Tooth-Friendly Perk: Milk contains vitamin D and calcium, which strengthen teeth and bones, preventing tooth loss.
1 teaspoon of pumpkin pie spice

1 teaspoon of vanilla or almond extract

2-3 drops of agave nectar or honey, if desired

Sprinkle of cinnamon and nutmeg
Directions:
1. Mix milk with pumpkin puree in a saucepan and heat over stovetop at medium heat.
2. Remove mixture from heat and stir in vanilla, pumpkin pie spice, and agave nectar.
3. Froth mixture using a milk frother or blender.
4. Combine mixture with freshly brewed coffee in a large mug.
5. Top with cinnamon and nutmeg.
6. Sip and enjoy!
7. Drink a glass of water afterward to help wash sugar and acid from your teeth.