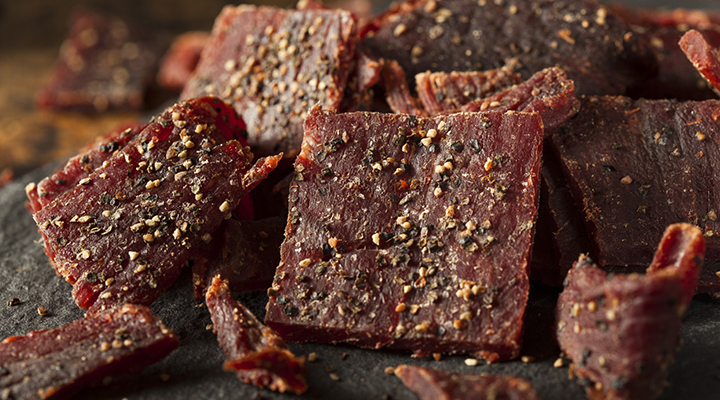 Dry, rough and a little salty – No, we're not talking about your Uncle Herbert. We're talking about beef jerky!
As a state that knows a thing or two about beef, (we're ranked 15th nationwide in our beef cow numbers) it's only appropriate to share a recipe for this rough and tough treat.
Meat:
Be sure to select lean meat. Unlike steak, you're not looking for marbling. Ask your butcher to select the right meat and slice it for you (into 1/4-inch-thick slices). This will cut prep time.
Marinade:
In a large bowl, combine the following ingredients. Once combined, drench your meat a few slices at a time. Once each slice has a healthy coating, cover and place in the refrigerator for 6-8 hours.
· 1 1/2 cups Worcestershire sauce
· 3/4 cup soy sauce
· 1/4 cup liquid smoke
· 1/2 cup BBQ sauce
· 1 3/4 tbsp onion powder
· 2 tsp. hot chili powder
· ½-1 tsp. each of salt and black pepper
Dehydrate:
Preheat your oven to 200°F, pat dry and place each slice on a large wire rack on baking sheets. Arrange the beef on the racks, leaving 1/4 inch between slices. Sprinkle with coarsely ground black pepper. Bake for about 4 hours, until the jerky is firm and almost completely dry, but still chewy.
Enjoy:
Let cool completely on the racks before serving or packaging.
We know that this snack may not be for everyone, especially those who suffer from Temporomandibular Joint Disorder (TMJ). But for those that don't experience jaw pain, jerky is a great option for your teeth. The lean beef provides healthy nutrients and since it's dehydrated and firm, it's less likely to stick in between teeth.
Have a jerky recipe you love? Share it with us in the comments!