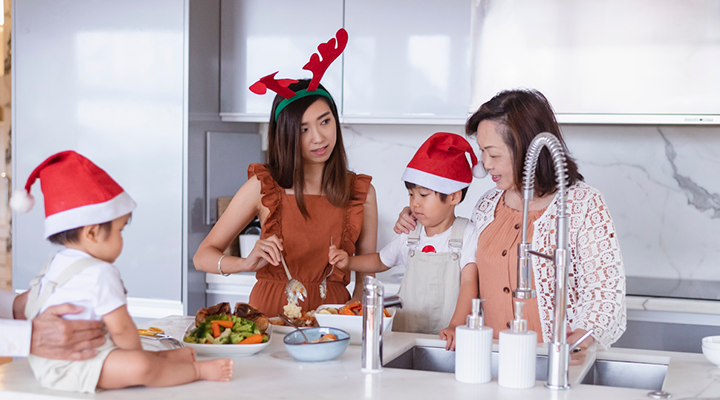 The holiday season is here. For most people, this means indulging in more treats, sweets, and foods that aren't quite healthy for their bodies or mouths. Don't let the holidays get the best of your oral health! Check out some tips to keep your mouth healthy during the holidays.
How the holidays can impact oral health
Holiday foods are delicious, but unfortunately, many have a haunting amount of sugar. Treats like cookies, brownies, candy, and alcohol all tend to make their way into the festivities even though they don't benefit your oral health during the holidays.
Did you know that the average American adult consumes 22 teaspoons of "added" sugar per day? This far exceeds the guideline of 6 teaspoons for women per day and 9 teaspoons for men per day. Consuming this much sugar is not good for your oral health and the temptations are exaggerated during the holidays.
Whether you are stress eating, eating for joy, eating because you are bored, or enjoying the snacks because they're around, it's essential to look at what you are consuming. We tend to draw a connection between sugar and obesity, which is a problem, but what these sugars do to your oral health is overlooked.
How to keep your mouth healthy during the holidays
Foods to limit – Snacking & alcohol
Keeping your mouth healthy during the holidays may feel impossible with all the goodies that are constantly around. Here are some foods to be on the lookout for while indulging.
Sour candy: These chewy and sticky candies contain lots of sugar and acids that are unhealthy for your teeth and can contribute to tooth decay and cavities.
Bread: You might not think of bread as a culprit, but it can contribute to cavities. When bread becomes a gummy substance in your mouth, it sticks to the crevices between teeth, causing cavities.
Alcohol: Most people know that alcohol is not healthy, but the amount of sugar in most alcoholic beverages is shocking. The sugar content in alcohol causes dehydration which can lead to tooth decay and tooth staining.
Carbonated Drinks: Soda or diet soda enable plaque to build up and destroy your enamel.
Ice: Chewing on ice can damage your oral health and cause dental emergencies. Ice can still be used to chill a beverage, but avoid the urge to chew on ice.
Citrus: Oranges and lemons are packed with Vitamin C, but they are not beneficial to the enamel. If you do consume citrus, indulge in moderation and wash your mouth with water after.
Potato chips: Avoid consuming chips in excess due to the amount of starch. Having a few chips is okay, but when you eat chips in bulk the starch accumulation can stick to your teeth and cause plaque buildup.
Dried fruits: Might sound like a healthy snack, but that is not the case for your mouth. Dried fruits stick to your teeth, so remember after you consume to drink water, followed by brushing and flossing.
Although avoiding all these foods and drinks might be difficult, following these oral health tips during the holidays might save you time and money at the dentist in the future.
Healthy alternatives to holiday treats
Holiday treats do not always need to be full of sugar and fat. Try these healthy snacks that are better for your oral and overall health.
Here are some healthy alternatives this holiday season:
Keep in mind that even when you try out these healthy alternatives, it is still important to give your mouth some love every day.
Oral health care routine during the holidays
Choosing healthier food isn't the only method for keeping your mouth healthy during the holidays. It' also important to make sure your oral health care routine is staying consistent.
Here are our brushing tips:
Splash some water on your toothbrush.
Apply a small amount of fluoride toothpaste to your toothbrush.
Hold the toothbrush at a 45-degree angle.
Insert the toothbrush into your mouth and begin gently brushing back and forth on each tooth. During these two minutes of brushing, you should spend about 30 seconds in each of the four quadrants of your mouth.
Repeat this process twice a day.
Brushing for two minutes might seem like an eternity, but it's vital to ensure each tooth is cleaned and taken care of correctly.
Here are our flossing tips:
Use about 18 inches of floss.
Wrap the floss around one of your middle fingers, with the rest of the floss wrapped around your other middle finger.
Wrap the floss until you create about a 1-inch gap with the floss tightly held between your thumbs and pointer fingers.
Gently slide the floss between your teeth – curving it in a C-shape around each tooth.
Adjust the floss before moving on to the next tooth, so the following tooth gets a fresh clean.
Repeat this process once a day on every tooth in your mouth.
Dental visits during the holidays
It is important to follow these brushing and flossing routines, but there is only so much you can do for your teeth at home. It is crucial to still visit the dentist every six months (twice a year).
These dental visits help clean plaque off your teeth and gums, as well as clean areas in your mouth that your toothbrush doesn't reach. Not only does your dentist clean your teeth, but they also scan for signs of oral cancer and other dental diseases. When you start skipping routine dental visits the oral health problems can begin stacking up without your knowledge, so schedule an appointment today.
As you can see, the holiday season can bring along many treats that should be avoided. Use the tips and tricks discussed above to ensure you maintain a healthy mouth.
Check out this blog for more healthy holiday alternatives: