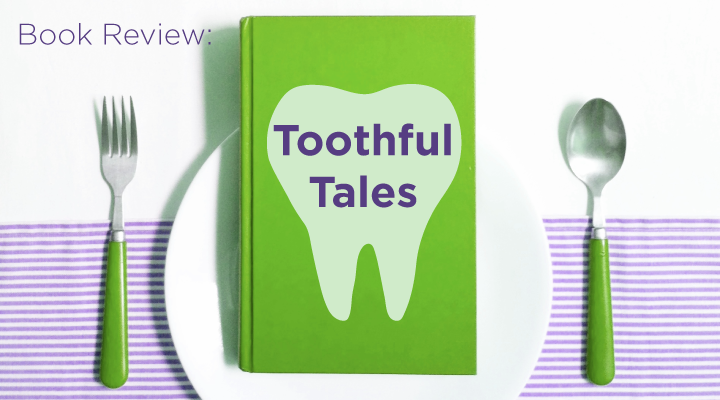 Do you dread the day when you have to take your children to the dentist? Dr. Jeanette Courtad, DDS knows this feeling all too well. She decided to make a change in the way kids learn about their dental health. She wrote a book series called "Toothful Tales" to promote oral health among kids and expecting mothers and is teaching kids why their oral health is important.
Her first book, "Toothful Tales: How We Survived the Sweet Attack," allows children and parents to view the importance of their oral health through the lens of a children's book. Dr. Courtad uses visual representations to make dental visits understandable and entertaining for children.
Dr. Courtad didn't just sit down wake up one day with a whim to write children's books. She realized the need for this series when she had to present to a group of kindergartens. She had to communicate to them the importance of brushing, flossing, and having a healthy mouth. But how to actually get through to these children?
Dr. Courtad got on their level and made cartoon-like sculptures and utilized relatable characters to teach this class. She watched as the children engaged with her visual representations, and decided to make a greater impact by starting a book series.
"I love talking to colleagues at dental conventions across the country who appreciate the humor, visual impact and powerful oral health message of my books. Pediatric dentists are some of my best, repeat customers. But my favorite reviews come from parents who tell me their child regularly chooses to have a book from the Toothful Tales series read to them before bedtime.
I was even told about a (precocious) four-year-old who told her Mom that their tongue really liked the sweet they were eating but the teeth didn't, so she wanted to only have a little before brushing. It's so important to emphasize how what we put in our bodies effects our overall health. If my silly tooth characters can help children (and their parents!) care more about food and beverage choices (hooray, fluoridated tap water!), then I'm doing my part to inspire (oral) health literacy," Dr. Courtad told Delta Dental.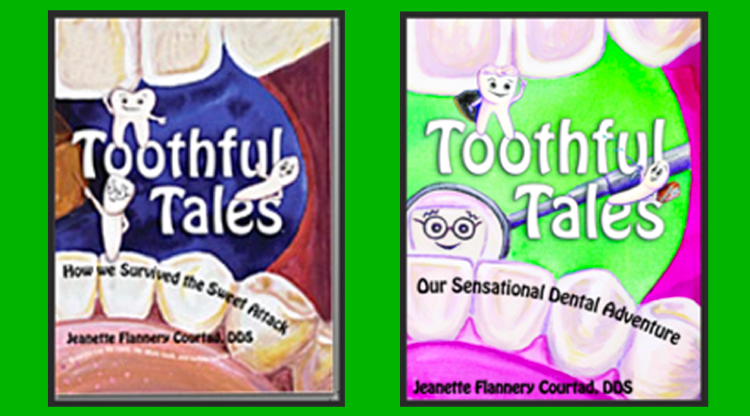 Inside Dr. Courtad's "Toothful Tales: How We Survived the Sweet Attack"
Kids are fascinated when their teeth fall out – they'll show anyone they can find. So a book explaining this process and framing it for children allows kids to discuss this in a way they understand.
"I made the cuspid, or Cuspi, more concerned with aesthetics and how things feel. She doesn't like to be covered in sticky sweets," Dr. Courtad says as she describes the characters she created. "Then Mola brings out the functionality since [the molar] is the more powerful chewing surface of the mouth. I tried to address all aspects of oral functioning with the teeth characters."
So how were these original characters created?
"I carved, out of couch foam, three teeth — a molar, a cuspid and an incisor — and covered them in terry cloth, a fabric that I could attach Velcro germs to, which I cut out and put on the teeth. Then, I made faces out of the Velcro, as well," Dr. Courtad told the American Dental Association.
These cartoon-like sculptures are transformed into fun graphics in her book, and teach parents and kids the importance of dental health in an entertaining way.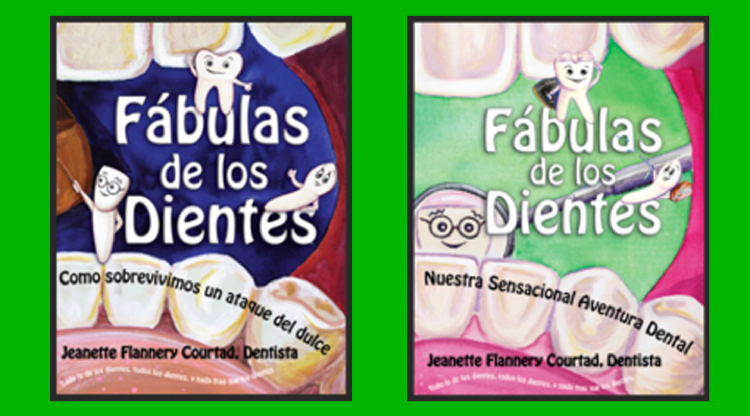 Dr. Courtad published her first book in 2009. When she witnessed how successful and useful her first book was, she decided to expand it into a series. Dr. Courtad wrote two other books, "Toothful Tales: Our Sensational Dental Adventure" and "Toothful Tales: Becoming Me Cavity Free."
Her next two books were primarily written for pregnant mothers. Expecting moms don't always have their oral health top of mind. Dr. Courtad realized that many women weren't educated on how to care for their infant's oral health, too. She detailed the importance of caring for their baby's teeth. She uses her book "Toothful Tales: Becoming Me Cavity Free" to provide an in depth yet entertaining way to inform pregnant women with bright graphics that are easy to understand.
Due to the influence of her first three books, Dr. Courtad wrote an additional book in the series for yet another audience. Her next installment in this series will target college aged students and specifically look at the impact that snacking and sugary drinks have on oral health.
Dr. Courtad has taken her idea of presenting and teaching kids the importance of keeping their mouth healthy, and transformed that idea into an influential and educational book series. Her "Toothful Tales" book series promotes oral health among kids and expecting mothers, and Dr. Courtad continues to teach the people of all ages about oral health by educating and expanding her target audience.
Click here to order the books!
For more on how to help your kids have a healthy mouth and smile, click here.