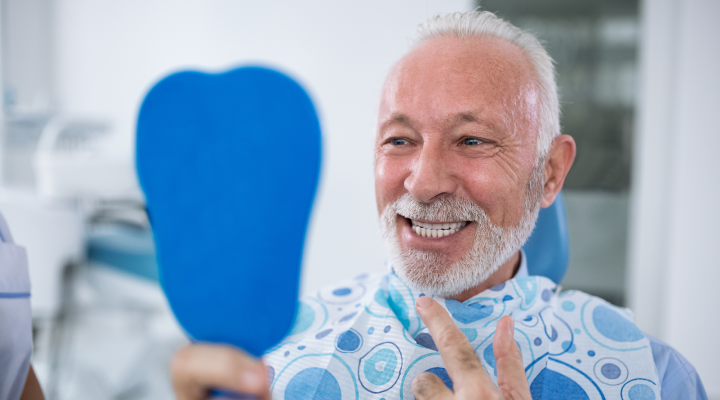 Caregivers of older adults have plenty to keep track of – appointments, physical therapy, medications, meals and groceries – it can make flossing seem like the last thing to worry about. But maintaining a healthy mouth in older adults is key to being healthy overall. Comfort and self-esteem are also impacted by a healthy (or unhealthy) mouth. Our tips for a healthy mouth will help caregivers for older adults stay on top of smile care.
Studies have shown that the overall state of older adult's mouth health "is generally deficient, with an elevated prevalence of caries, periodontal disease, and tooth loss." When the mouth isn't healthy, it causes a ripple effect. Further problems can develop in the mouth, and new issues can be created in the rest of the body. These tips for caregivers of the elderly will focus on consistent dental care. We'll address common issues the elderly face because of their dental health and add easy practices for avoiding them.
Chewing problems and tooth loss often lead to older adults not consuming a proper diet. 21.9% of adults over 74-years-old in the United States are toothless to some degree. "Poor oral health status is one of the most frequent causes of malnutrition due to its effect on mastication and swallowing, which can lead to severe deficiencies in energy and nutrient intake." Some studies even suggest there's could be an inverse correlation between poor dental health and adequate dietary intake. A healthy mouth curbs any further dental damage from happening and allows any current issues to be addressed.
Dental Problems and Maintaining Nutrition
As an in-home caretaker, did you know that older adults with in-home care are at a higher risk of malnutrition? Institutions that care for older adults are less likely to have problems with malnutrition since they have pre-planned meals scheduled. They "generally offer a well-balanced food" program, and offer the blending of foods when chewing is problematic. As an in-home caregiver, avoid any concerns about malnutrition with those you care for by creating a weekly meal plan with balanced plates. Create a booklet each week with recipes on the computer or with paper and colored pens.
If tooth loss makes it difficult to consume enough fruits and vegetables, cooked and canned options are softer and can help.
Unsweetened fruit, low-sodium soups, and canned tuna are great to keep on hand for quick meal options.
Make blended vegetable soup a weekly staple for an easy meal that's high in fiber, Vitamin A, antioxidants, and more.
Research indicates that tooth loss and chewing problems in older adults may more often lead to a decrease in quality of life than malnutrition. Ensure meals are colorful and vary each day so that mealtime remains a positive experience.
On-Time Dental Care
Brushing and flossing are only effective if they're consistent and combined with professional dental care. Do you use a calendar to track appointments for the older adult you care for? Set a reminder or make a note 6 months after their last dental appointment. Wondering if it's time to make an appointment? If it's been more than 6 months since their last dental check-up, or they experience any of these symptoms, it's time to make a dentist appointment for the older adult you care for:
They have pain in their mouth
Gums are puffy
Gums bleed when brushing or flossing
They hide their mouth when they smile
They have trouble chewing or swallowing
Their medications cause persistent dry mouth
Their mouth has spots or sores
How do you know if they have pain, spots, or areas of concern? We recommend caregivers of the elderly conduct an exam after brushing and flossing the mouth.
Examine lips, gums, and mouth
Check for swollen gums or bleeding
Check for areas of sensitivity
Do an exam regularly to notice any changes in mouth health
The ADA recommends these important mouth care steps for the older adults you care for:
Brush teeth twice a day for 2 minutes.
Clean between the teeth daily with floss or other between-the-teeth cleaners.
If the person has dry mouth, an alcohol-free mouth rinse may help. Sipping water, sucking (not chewing) on ice chips and using a humidifier while sleeping can help keep him or her hydrated.
Limit snacking and sugary drinks. Healthy foods and drinks such as fruits, vegetables, whole grains, and water are good for the mouth and the body.
Make and keep dental appointments. Even people with dentures need to visit the dentist.
Watch for symptoms that could signal larger issues, and make an appointment with the dentist to have them checked out.
Dentures
Rinse dentures after each meal.
Brush them daily with denture cleaner and take them out before bedtime.
Store in fresh water when not being worn. (Courtesy of the ADA)
Napkins are a major culprit for disguising dentures. If you make it a practice to store them in fresh water when they are not being worn, you will prevent them for getting tossed out in a napkin.
Caring for older adults is no easy matter. But with these tips for caregivers of the elderly, you'll be well on your way to making a healthy impact on their smile health and their overall health.
For more information on dental health for older adults, browse our other blogs.