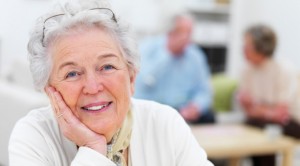 It's no secret that people in this country are living longer. Seniors today are more vital, active and engaged than in any time in history. In fact, seniors today represent 13% of the nation's population and by 2030, will be 50 million strong.
What a joy it is to retire, perhaps travel, watch grandchildren grow and take advantage of all you've worked for.
One of the keys to enjoying retirement is, of course, good health. Yet with employer-sponsored dental benefits coming to an end upon retirement, seniors have good reason to educate themselves on the best options for maintaining their oral health.
Although some retirees may be tempted to "do without," the cost – both health-wise and financially – of forgoing preventive dental care can be catastrophic. It's critical to continue seeing your dentist regularly to protect your teeth and your smile.
Consider:
Seniors often take a variety of medications that can cause dry mouth which can lead to rapid tooth decay, gum disease, and tooth loss.
Poor oral health can affect a person's ability to chew, speak, smile, and maintain adequate nutrition.
Without regular dental care, many adults seek care in costly emergency departments.
One rule remains imperative: seniors will continue to need regular dental care to protect their oral health and overall health. 
We encourage you to educate yourself about the ever-changing marketplace and demand innovative dental benefits and care from providers you trust.  Check out our plan offerings to see if one works for you.