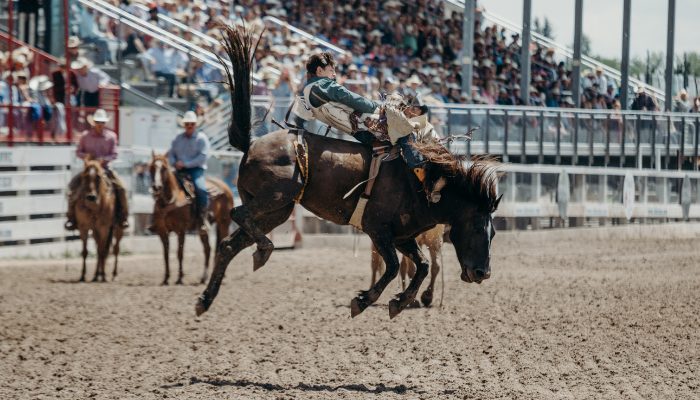 This is not a typical year at Frontier Park. Cheyenne Frontier Days (CFD) is celebrating its 125th year. That's why they call it The Daddy of 'em All! Cheyenne held its first Frontier Days celebration in 1897. It was a one-day cowboy roundup. Since then, it has grown into a ten-day extravaganza filled with "food, fun, and entertainment."
When thinking about Cheyenne Frontier Days, a few country songs come to mind that completely embody the feeling of being at The Daddy of 'em All. Here are a few: The Beaches of Cheyenne by Garth Brooks, I Can Still Make Cheyenne by George Strait, Neon by Chris Young, These Boots by Eric Church, July In Cheyenne by Aaron Watson. These songs are a snapshot of what it is like to experience CFD.
The Wyoming trademark "the model cowboy on the horse Steamboat' that is used by Cheyenne Frontier Days, The University, and the state of Wyoming is Clayton Danks the winner of three Cheyenne Frontier Days competitions prior to 1910.
Health and Safety Protocol
Things are going to look a little different this year. Frontier Park has added additional health and safety protocols to keep everyone entering the park safe. These include:
Additional cleaning and sanitation to all areas of Frontier Park and Park-n-Ride
All event tickets and parking passes will be digital to allow for touchless scanning from mobile devices
More places around Frontier park will accept debit and credit cards.
Clear bag policy to help limit contact at security entry points.
Everyone entering the park is encouraged to wash their hands multiple times during their stay, and they have also included hand sanitizing dispensers around the park for convenience.
Please remember to stay home if you are sick.
Military Events
Fort D.A Russell Days (July 23-25th 9 am – 4 pm)
Fort D.A. Russell Days is an open house that gives members of the community an opportunity to visit F.E. Warren to learn about the base's history. While at the base they have a detailed schedule including "Stick" mule races, gunfight demonstrations, missiles display, period style dance, vehicle displays, and much more.
Military Monday
On Monday, July 26th military personnel are recognized with a free ticket to Monday's rodeo. The rodeo also features military transportation vehicles from different eras of history.
USAF Thunderbirds
On July 28th from 10:00 am to noon, the United States Air Force Thunderbirds will put on an amazing hour-long demonstration. During this time, you will be able to witness the jets dancing in the sky. The fighter pilots show their skills as they display the dancing jets in formation doing aerial acrobatics all while the jets are only a few feet away from one another.
Fun Fact: The Thunderbirds are assigned to the 57th wing and are based at Nellis Air Force Base in Nevada. Created 68 years ago in 1953, the USAF Thunderbirds are the third oldest formal flying aerobatic team (under the same name) in the world.
Pancake Breakfast
Come enjoy a free breakfast with people from all over the world visiting the Daddy of 'em All. Located in Downtown Cheyenne at the Depot, July 26th, 28th and 30th from 7:00 am to 9:00 am. Grab yourself a flying flapjack and some fresh ham. The pancakes will quite literally be flying through the air, as volunteers catch the flapjacks before they distribute them to the patrons. There are hundreds of volunteers to help make these 3 days go off without a hitch, among those are from the Kiwanis Club of Cheyenne, Boy Scouts, Girl Scouts, Cheyenne Frontier Days Indians Committee, and many others. Come down and see the excitement and why hundreds of people line up to enjoy a free meal.
Grand Parade
Starting in front of the Wyoming Capital and wrapping around downtown, the parade celebrates all of the excitement that CFD has to offer. Grab a seat, enjoy music, history, and horses. When the parade is over, enjoy your time walking around local downtown Cheyenne where you'll find plenty of boutiques, food, and drinks for everyone to enjoy.
At the Park
Walking into Frontier Park one might feel overwhelmed with excitement and ideas of what they are going to do first. From shopping to great food to the nightly entertainment, there is something for everyone at Frontier Park.
Food
Carnival
The Rooftop
Shopping
Cowboy Church
The Garden
Western Experience
Saloons
Daily Rodeo –
Frontier Nights –
Sources
"United States Air Force Thunderbirds." Wikipedia, Wikimedia Foundation, 28 Mar. 2021, en.wikipedia.org/wiki/United_States_Air_Force_Thunderbirds.
"Events & Schedule – Cheyenne Frontier Days World's Largest Outdoor Rodeo." Cheyenne Frontier Days, www.cfdrodeo.com/events-schedule/.
https://www.warren.af.mil/fort_darussell_days/
Flapjacks don't make themselves – pancake breakfast a feat of skill | Cheyenne Frontier Days | wyomingnews.com