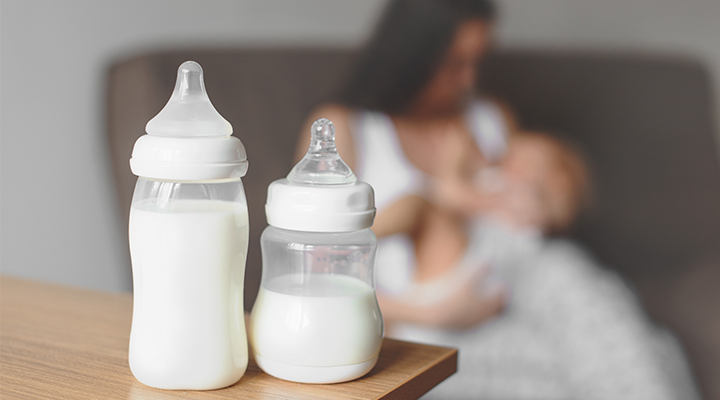 Baby dental care is as important as our dental care! Baby teeth, though they don't stick around forever, help create a lifelong, healthy smile for your child. Healthy baby teeth equal healthy adult teeth. Understanding how breastfeeding impacts your baby's dental health will help you set your child up for a healthy mouth and teeth. Learn how breastfeeding versus bottle feeding can impact the dental health of your newborn.
Breastfeeding Over Two Years Can Lead to Cavities
Studies have proven that babies who continuously breastfed for longer than two years had an increased the risk of having dental caries around 5 years of age. They actually had almost two-and-a-half times more risk for developing severe early childhood caries than children who were breastfed for less than one year.
After 24 months of breastfeeding, a higher frequency of feedings also adds to the child's risk of developing severe early tooth decay, researchers found.
How Does Breastfeeding Impact a Mother's Dental Health?
Moms who are breastfeeding lose a small bit of bone mass during lactation to provide calcium to their baby. Make sure your prenatal vitamins contain the recommended amount of calcium. The recommended dietary allowance of calcium for all women between the ages of 19 and 50 — whether they're pregnant, breastfeeding, or non-pregnant — is 1,000 -1,300 mg/day.
The changes in the body that occur with pregnancy are linked with tooth decay. Breastfeeding, however, does not have a substantial link to causing the mother to form cavities. Dentist are seeing pregnant women taking less care of their teeth than before they were with pregnant. Dr. Ruchi Sahota, mother and American Dental Association spokesperson, states that, "Moms that are just not brushing as much as they used to, whether they're brushing once a day or not brushing at all." And that will lead to the formation of cavities. Ensure you're staying on top of your oral and overall health after your child is born. Avoid letting your dental care fall behind.
How Does Breastfeeding Impact a Baby's Dental Health?
One of the most common risks for a baby's oral health is "baby bottle tooth decay." Baby bottle tooth decay refers to when babies get cavities. It can be caused by a few factors including "frequent, prolonged exposure of the baby's teeth to drinks that contain sugar."
When a baby is put to bed with a bottle, or a bottle is used to pacify a fussy baby, the bottle often sits in the baby's mouth. The long-term contact between the baby's teeth and the milk on the nipple of the bottle is what causes cavities. When breastfeeding, the milk rarely comes in contact with the baby's teeth. That's why breastmilk in a bottle can cause cavities but breastfeeding for the recommended amount of time does not.
Breastfeeding can have a positive impact on oral health. It reduces the risk of baby bottle tooth decay, but it doesn't entirely eliminate the risk of cavities. Breastfeeding can actually lead to cavities if a child has been breastfeeding for longer than the recommended period of time. The American Academy of Pediatrics recommends breastfeeding for the first year of a baby's life because of the nutrition it provides them. Every baby and every mom are different. Understanding the impacts of breastfeeding short term and long term can help you decide what's right for you and your newborn.
Click here to learn about proper baby dental care. Learning how to prevent cavities, or dental caries, in children can help your child have good dental health for a lifetime to come. Click here to learn about going to the dentist at the age of one.