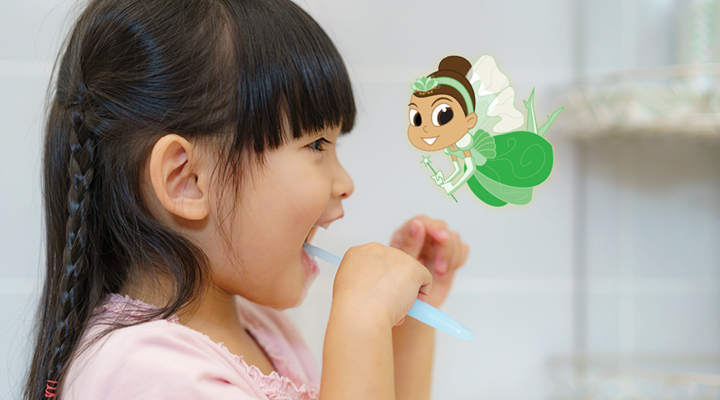 The Tooth Fairy floats silently, fluttering down to collect lost teeth from beneath the pillows of sleeping children. In place of the tooth, she leaves a small treasure for the child to find in the morning. This ritual is an important rite of passage for children.
Why? Gifts from the Tooth Fairy are a great way to make losing teeth less scary and more exciting for kids. They're also an opportunity for parents to encourage good oral health habits, even before a child loses their first tooth.
Here are some great ways parents can use the Tooth Fairy to teach kids about oral health:
Introduce the Tooth Fairy early on
Kids start losing baby teeth around age 6. That leaves plenty of time for introducing the Tooth Fairy and explaining how good oral health habits and healthy teeth make her happy. The Tooth Fairy talk is also the perfect opportunity to emphasize your child's everyday dental routine. Kids don't want to brush and floss? Remind them that the Tooth Fairy only exchanges gifts for healthy baby teeth, not teeth with cavities. It provides children with some extra motivation to take care of their mouths.
Leave a note reinforcing good habits
A personalized note from the Tooth Fairy is almost as exciting for kids as whatever other prize she leaves behind. Parents can use it to include tips for maintaining a healthy mouth, such as brushing twice a day, flossing once a day, and visiting the dentist twice a year. If you need some inspiration, we have letters you can use.
Give oral health gifts
Although the Tooth Fairy frequently leaves cash during her visits, it doesn't always have to be about money. Consider forgoing cash and focusing on oral health. Providing a new toothbrush with their favorite cartoon character or fun-flavored or fun-sized toothpaste are a couple of ideas. How about a new book? There are several children's books about Tooth Fairy adventures that can add to the excitement.
Visits from the Tooth Fairy are a great way to tap into your child's imagination, help them understand the importance of oral health, and introduce some excitement around taking care of their teeth.
For more ideas to make your child's Tooth Fairy experience extra special, check out this Tooth Fairy garden craft project.