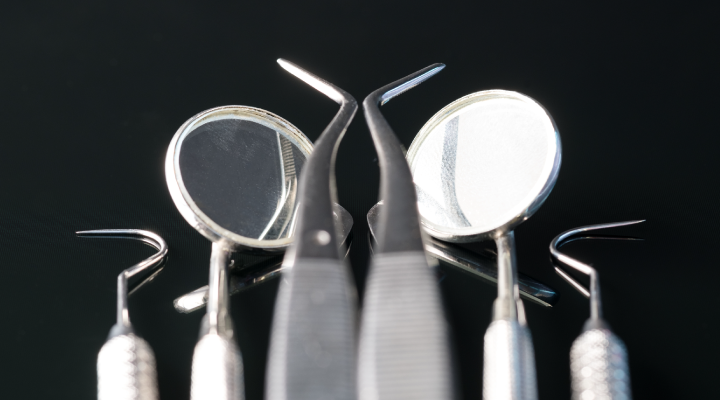 Dental tools can be intimidating. An estimated 9% to 20%  of Americans shy away from seeing an oral health provider because of anxiety, which can be triggered by the tools that are used. Fear of needles, fear of the dentist's chair, fear of dental tools and their uses, and even fear of pain or financial changes are all things that keep people away.
Let's take a closer look at what the most common dental instruments are.
Common Dental Tools and Their Uses:
Dental Mirrors — This tool has a circular mirror at the end of what looks like a pen. It comes in different sizes and helps your dentist get a better view of your mouth.
Periodontal Scaler — The periodontal scaler helps your dentist remove plaque and tartar. Some are straight, some are curved. Some practices may even use an ultrasonic scaler, which has a vibrating tip to help with the removal of detritus.
Hollenback Carver — Another tool that can be intimidating is the Hollenback carver. This double-ended tool helps shape dental amalgam and composite resin, used to fill cavities.
Saliva Ejector — You might recognize this tool that sucks water and saliva out of your mouth– the saliva ejector. More often than not, the saliva ejector causes funny moments and entertaining noises, so you don't need to worry about this friendly device.
Dental Drill —It's not the same as the drill that you use at home. The dental drill is used to remove tooth decay and shape tooth structure before a filling or a crown.
It spins quickly, shoots water and is often accompanied by a local anesthetic, which numbs the area to prevent pain and keep you comfortable.
All of these dental tools are used to keep your smile healthy. Go into your next appointment with confidence.
Looking for a dentist? Use our handy provider search.