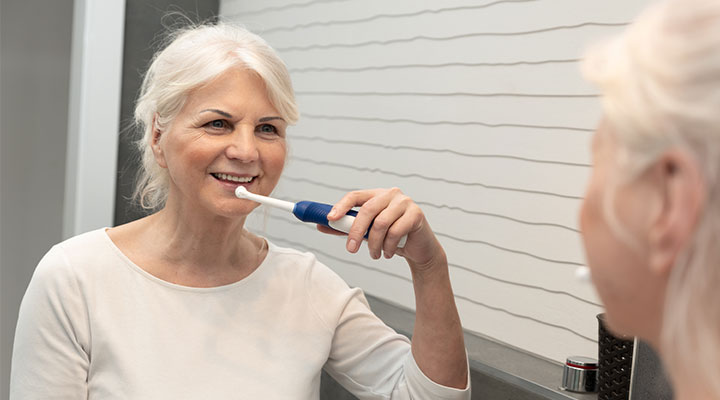 Our mouths need dental care day and night, and it's important we find a way to make that happen that works for us. Brushing and flossing with arthritis in the hands can be painful, but avoiding it only leads to more pain. If we ignore our oral health, we can experience gum disease and even loose teeth. We can also negatively impact the rest of our body if we don't have good dental care. That's why we're bringing you awareness around oral health and joint pain, as well as tips and tricks from experts! If you're looking for a brushing and flossing routine that accommodates arthritis, read on.
Oral Bacteria, Rheumatoid Arthritis, and Joint Pain
Researchers have found a significant relationship between our mouths and our joints. One study found that the fewer teeth a study participant had, the greater their risk was for having joint inflammation. They found that patients with fewer than 20 teeth had eight times the risk of having swollen joints are someone with all their teeth!
The National Arthritis Foundation writes that these stats are just a few examples among the growing body of research linking periodontal disease, or gum disease, with rheumatoid arthritis. Another study from the late 90's found that those who have moderate to severe periodontitis face over twice the risk of developing rheumatoid arthritis than someone with mild periodontitis faces.
Periodontal disease and rheumatoid arthritis have this in common: inflammation. Inflammation in the body can lead to inflammation elsewhere, like in the mouth. Chronic inflammation from gum disease has the potential to impact our overall health, too. It can raise our blood pressure and our cholesterol levels. Poor dental health increases the bad bacteria in the mouth. This can lead to bacterial infection in the blood stream, impacting our heart. All of this points to the fact that maintaining our oral health will help us maintain our overall health.
If you or someone you love has arthritis that makes brushing or flossing painful, use these tips to customize the process:
Brushing and Flossing with Arthritis
Brushing and flossing problems are so common among individuals with joint inflammation that the UK National Rheumatoid Arthritis Society has an entire page on their website dedicated to dental care with arthritis.
It's important to brush twice daily, morning and night, as well as after meals for two whole minutes.
An electric toothbrush can help you ensure that all nooks and crannies are being brushed thoroughly without requiring any elbow grease.
Try sitting while brushing so that you can rest your elbow on the counter for support.
It's still important to brush even if you have dentures.
Having an electric toothbrush can provide addition help besides doing the brushing for us. Electric toothbrushes also tend to have a larger base that is easier to grip than the slenderer manual toothbrushes.
Grip wrap can also be used on the toothbrush to maximize non-slippage. If gripping something tightly is an issue, there are toothbrush accessories made just for this purpose. Ask your dentist for specific product recommendations today! Looking for a dentist in your area? Click here!
Flossing presents a new set of problems for individuals with joint pain or dexterity issues. Pinching a tiny piece of floss and reaching into the dark space of your mouth is difficult enough. That's why we recommend looking into hand-held flossers for flossing with arthritis. Hand-held flossers range in size from the smaller "interdental" flossers, to flossers with long handles and disposable flossing ends!
To get rid of the string of floss altogether, look into a gadget flosser. It's an electric tool that uses water or mouthwash to blast the plaque away.
Speak with your dentist and do some research to find what best suits your needs.
Looking for more tips on health care as we age? Check out: